How The Greens Steel BEAST Compares to Other Tumblers in 2021
As there are quite a few options in the portable insulated tumblers market available these days, it's understandable that you may still be on the fence about which travel tumbler truly reigns supreme.
You've probably been doing some research to discover which stainless steel tumbler is the best for all your adventures, no matter how intrepid they are...
Let's break down how The Greens Steel BEAST compares to other tumblers on the market:
1. THE BEAST IS CRAFTED FROM 18/8 STAINLESS STEEL
For those unfamiliar with the stainless steel options on the market, it may come as a surprise that not all stainless steel is created equal.
There are several different types of food-grade stainless steels that manufacturers can choose from, but Greens Steel refused to cut any corners on quality and expense during the creation of the BEAST Tumbler.
This special product's design required the best stainless steel available to achieve the high standards The BEAST demanded.
WHAT MAKES THE BEAST'S 18/8 STAINLESS STEEL SUPERIOR?

In terms of durability and function, 18/8 Stainless Steel is where it's at.
Comprised of 18% Chrome and 8% Nickel, this 18/8 composite was the obvious choice in terms of toughness, corrosion resistance, and luster.
While this classification of steel is more expensive to buy than the lower ranking options, The BEAST demanded the highest quality materials for its construction.
18/8 Stainless Steel allows for The BEAST's superior seamless design, its sturdy feel in your hand, and its long-lasting durability thanks to its high tensile strength.
Other tumblers on the market use standard Stainless Steel, which is softer, less durable, and can easily pick up scratches and dents.
Many drinkware manufacturers also use Aluminum in their tumbler's construction, which leads to a host of other potential health hazards which we'll go into more detail about below...
Greens Steel was founded on a passion for preserving the health of our families and the environment, so creating completely BPA-Free drinkware for our loved ones and yours was of paramount importance.
Many manufacturers still use materials containing harmful BPA in their drinkware production, but The BEAST is created from entirely toxin-free components, even right down to its plastic lid.
WHAT IS BPA & WHY DON'T I WANT IT IN MY DRINKWARE?

BPA (Bisphenol A) is an industrial chemical commonly used in the production of certain plastics to harden them and is widely used to make water bottles and cups.
BPA is a powerful endocrine-disrupting chemical that has been linked to causing cancer, hormonal disruptions, reproductive issues, neurological conditions, and diabetes. It's also been associated with behavioral issues in children.
Research has shown that harmful BPAs can actually leach out of drinkware into the water you drink, exposing you to its harmful effects and posing serious health risks.
BPA also has an immense environmental impact. When it contaminates waterways, it disrupts ecosystems through its damaging effects to the reproductive systems of aquatic species, reptiles, and birds.
Other competitors include BPA in their drinkware, either directly in the plastic used for their construction, or within an inner plastic liner that's required in bottles and tumblers made from cheaper aluminum.
Aluminum is not a food-grade metal, thus when bottles are made from it, they require a plastic liner. This insulating layer can leach BPAs into your water, and if the plastic is scratched, you can also be exposed to the uncoated aluminum itself, which has been linked to Alzheimer's disease.
3. THE BEAST IS THE BEST VALUE
Depending on your individual hydration or caffeination requirements, The BEAST is available in 2 sizes and respective price points that'll keep you sipping your cold drink or hot coffee happily, whilst going easy on your wallet too.
Each BEAST comes to you in a ready-to-go bundle. Just for good measure, you'll get a color-coordinated leak-proof lid, 2 Stainless Steel straws plus a straw cleaner, all at no extra cost!
WHY THE BEAST CAN'T BE BEATEN FOR VALUE

Premium quality features at a surprisingly affordable price.
In addition to being the highest quality tumbler on the market for its price, every BEAST Tumbler also comes with:
Free 2-5 day Shipping
Included Splash-Proof Lid
Complimentary Stainless Steel Straws with a Straw Cleaning Brush
A No-Strings-Attached Lifetime Guarantee
Comparatively, for the price and quality, The BEAST Tumbler can't be beaten.
Competitor's products are sold as the tumbler only, they don't come in a kit with added accessories like Greens Steel BEAST Tumbler includes complimentary.
Many don't come with warranties, but The BEAST is guaranteed for LIFE!
The BEAST Tumbler is dishwasher safe!
The average market price for the same size tumbler from competitors can range from:
Similar 20 oz Tumbler:$28.99 and upwards


Similar 30 oz Tumbler:
$34.99 and upwards
2. The BEAST is eco-friendly
Greens Steel is a family company. Its roots are firmly planted in dedication to preserving our earth in its pristine beauty, and for many generations to come.
HOW MOTHER NATURE CELEBRATES THE BEAST AS THE MOST ENVIRONMENTALLY-CONSCIOUS TUMBLER AROUND:

Because we don't need to sacrifice quality for the sake of the earth.
The BEAST's packaging is made from recycled cardboard, and is 100% recyclable.
Its use of 18/8 grade Stainless Steel is contributing to the global effort in eliminating single-use plastic. This material provides a long-lasting, high-quality, reusable piece of drinkware that is versatile enough to last a lifetime; thus reducing the necessity for anyone to continue purchasing bottled water or to use disposable cups.
The complimentary reusable Stainless Steel Straws that come with each BEAST are helping to make single-use plastic straws that pollute oceans and harm vulnerable marine wildlife a thing of the past.
Greens Steel is a company with a conscience: It aims to obtain B Corp Status. This classification of business defines a commitment to meet the highest standards of verified social & environmental performance, public transparency, and legal accountability to balance profit and purpose.
Many other drinkware competitors do not hold B Corp Status in their company, nor do they strive to attain it.
Big businesses in this drinkware niche are perennially more focused on profit, rather than the ethics surrounding their company's impact on the environment, their employees, consumers, suppliers and local community.
1. THE BEAST HAS THE ULTIMATE INSULATION & TEMPERATURE RETENTION
The BEAST stands out as the trusty sidekick of choice for thirsty adventurers the world over. It consistently excels in many different environments and extreme ambient temperatures, and has proven it will successfully keep your drink at its ideal temperature from that very first sip, right down to the last delicious drop.
No matter whether it's a challenging mountain peak (or even just a lofty pile of paperwork!) you're conquering today.
The BEAST is over-engineered and rigorously tested against other leading brands, to match or exceed the performance of competitors' insulated tumblers.
WHY THE BEAST IS THE GOLD STANDARD IN VACUUM INSULATED TUMBLERS:

The BEAST doesn't compromise, and neither should you.
TEMPERATURE RETENTION IS SECOND TO NONE
The thick double wall construction offers an additional layer of insulated air that separates your hot or cold drinks inside the tumbler from the elements surrounding you, allowing superior temperature retention for hours on end. This copper-lined double wall keeps your hot drinks hot, even in freezing winter temperatures; and your cold drinks icy and refreshing on the most scorching of summer days.


THE BEAST IS VACUUM INSULATED
Combined with its double wall insulation, your tumbler enjoys a perfect vacuum insulated seal thanks to its Spill Resistant Closing Lid. This ingenious lid not only protects your drink from potential spills; but it also allows your tumbler to achieve optimal vacuum insulation… We're talking the ultimate insulated tumbler that keeps your hot and cold drinks appetizing all day long.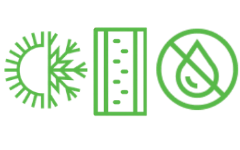 EACH BEAST HAS A PREMIUM ELECTROPOLISHED FINISH
This specialized polishing process guarantees your BEAST has a silky smooth, ultra-clean surface finish inside that's resistant to bacteria and will repel stains, corrosion and rust. Electropolishing guarantees years of pure-tasting drinks, untainted by leftover residue.


Its Sweat Free Powder-Coated Finish in a rainbow of colors won't scratch or chip, even with frequent dishwasher use.
BONUS: 15,000 5-STAR BEAST REVIEWS CAN'T BE WRONG
We think by now you can fairly confidently put an end to your search for the best insulated tumbler right here. Boasting superior vacuum insulation for perfectly hot coffee, a nifty lid that prevents spills, super-tough premium finishes and a company whose mission statement revolves around the wellbeing of ourselves and the planet.

Greens Steel's BEAST stands out as the best insulated tumbler your money can buy.
BUT DON'T JUST TAKE OUR WORD FOR IT...
Let's hear what all those happy customers have to say!
As this goes to press, The Greens Steel BEAST is celebrating 15,000 positive 5-Star Amazon Reviews.
In a recent poll, over 7,000 participants weighed in favor of The BEAST Tumbler, ranking it as their preferred tumbler over its competitors; some of which have been long considered the best tumblers in the industry.
But don't just believe what we say; let's hear what a few happy customers about their favorite coffee companion and water cup that has them leaving rave reviews...

The Greens Steel BEAST Stainless Steel Tumbler undoubtedly takes the cake as the best travel tumbler on the market, with its incredible value for money, and a list of superior features that set it apart from its lesser counterparts.
Why not grab one for yourself and see what all the excitement is about? Discover why The BEAST dominates all other stainless steel tumblers out there.


Fefe Self-Proclaimed Tumbler Aficionado


---